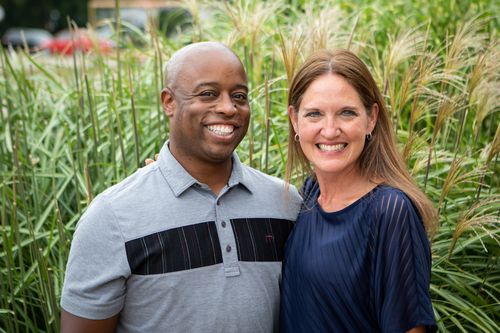 Pastor Kathy Resler Chambliss
Kathy grew up in Goshen, Indiana and had a calling to pastoral ministry in middle school. She was blessed with parents and mentors who took her calling seriously and gave her amazing support as she followed God's direction for her life. She got her ministry education from Taylor University and Fuller Theological Seminary. After 10 years in youth ministry across 4 states, she put roots down at Kentwood Community Church in 2007, where she served in a variety of pastoral roles over 10 years. Kathy came on board as the Campus Pastor at KCC Wyoming in 2017. She and her husband Aaron have been married almost 20 years; he's her best friend and the one who helps her not take herself or life too seriously. Kathy and Aaron have two daughters, Kyliah and Ryelle and a goldendoodle, Simba. Kathy loves horses, gardening, baking for others and outdoor adventures with her family.
Candace is originally from Toronto in Canada (eh?!) and came to Grand Rapids to attend Cornerstone University where she met her husband, Rich. Candace and Rich were members of our founding church, Kentwood Community Church, for nearly 30 years, and part of the Wyoming Campus (which is now Together Church) since the beginning in 2013. Candace is blessed with five kids ages 14-23 and enjoys homeschooling, hiking/walking, reading, and cooking/eating whole/natural foods.
Brandon grew up in Western New York and moved to Michigan in 2019 to further his education at Grand Rapids Theological Seminary. Brandon met his wife, Heidi, who is originally from West Michigan, while serving on a traveling worship ministry through Cedarville University. Brandon loves biking, camping, cheering for the Buffalo Bills, and reading a good book in a hammock.
Gabi was born and raised in San Antonio, Texas and moved to Michigan in 2018 to go to college. She is currently in the third year, pursuing a degree in Business in Marketing with a dual degree in Biblical Studies from Grace Christian University. She grew up in a big family and was introduced to the church at an early age. Gabi loves traveling, camping, hiking, rock climbing, road trips and missions! If you hear someone saying 'yall', it's probably Gabi!
Paul and his wife Ann love being grandparents and enjoy time with their grandkids. Paul has lived all over the world and even speaks several languages. He even has a private pilot's license! Paul is best known for his sense of humor and sincere love for God, the Church and all kinds of people.
The Leadership Advisory Team of Together Church serves as wise counsel to the Lead Pastor and staff. An intentionally diverse team represents a cross section of the congregation and is committed to praying for the church and speaking into leadership decisions and direction.

"For lack of guidance a nation falls, but victory is won through many advisors." Proverbs 11:14

Leadership Advisory Team
Mario Alfaro, Krista Umanos, Larry Hembroff, Terri Martin,
Mike Geerlings, Mark Carroll, Ralph McCarty, Tom Jahncke
We'd love to hear from you. Fill out the form below to get started.