We Want Your Kids to Love Church
That's why we are committed to creating safe and fun environments where your children are taught about the Bible and the love of Jesus through relevant, age-appropriate kids services. Our ultimate hope is to see a generation of children come to know God at an early age.

Together Kids is a children's ministry uniquely designed with your child in mind. Every weekend children (infants through 5th grade) experience safe, age-appropriate environments where the Bible is taught in a creative and relevant way.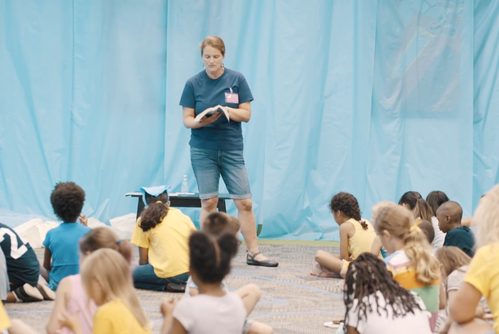 My hope is that our kids will wake up on Sunday morning with a huge smile on their face and great joy in their hearts because that is how excited they are to be part of Together Kids! Here at Together Church, our kids matter and I am so thankful for our Together Kids leaders who make Together Kids a place where kids can have fun while learning and experiencing who Jesus is in fun and creative ways!
Sunday Mornings | Infants, Toddlers, Preschool
Check in 9:45 am
Class begins at 10:00 am
Sunday Mornings | Kindergarten – 5th grade
When outside:
Kids worship with their parents then are dismissed for an outside age appropriate experience.

If we have to go inside:
Check in 9:45 am
Kids worship with their parents then are dismissed to the Square for an age appropriate experience.
Wednesday Nights| Kindergarten – 5th grade
Class begins at 6:30 pm
Check-in begins at 6:15 pm
Unfortunately, due to our current pandemic season, our Wednesday night programming is not being offered during this time.
Kids Camp | Kindergarten – 5th grade
Each summer, Together Church hosts an epic Vacation Bible School called Kids Camp! The week of Wyoming Kids Camp is the BEST week of the summer and is a MUST for all children!
We had a blast at Kids Camp 2021 and can't wait for next summer!
Kids Camp 2021 will be July 18-21. Mark your calendars!
Being a parent is not easy.
But with God's help, you can do it! In Together Kids, our hope is to partner with you so that our children know God at an early age.
Please check out these helpful parent resources that we've specifically selected with you in mind.
Thank you for your desire to dedicate your child(ren)! We're grateful for the opportunity to partner alongside you in your parenting journey. Please fill out this form so we can begin planning this special day for your family.
We'd love to hear from you. Fill out the form below to get started.